Vi renoverar / We are restoring
Vårt vackra hotell är byggt 1930 och har genomgått stora renoveringar inomhus och nu har turen kommit till extriören. Vi står nu inför att byta tak och renovera fasaden. Arbetet påbörjas under vecka 25 och beräknas vara klara i slutet av december 2018.
Detta gör att hela byggnaden kommer omgärdas av byggställning från mark till tak. Väderskydd kommer begränsa utsikten från samtliga rum under renoveringsperioden.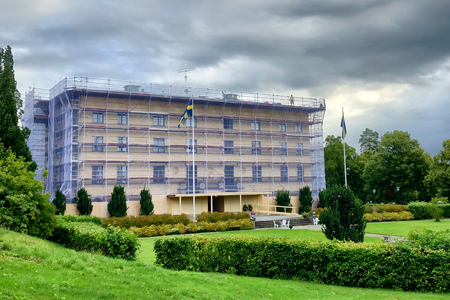 Vi gör allt för att renoveringsarbetet inte ska inkräkta på din vistelse. Vi vet dock att vissa moment gör att störande ljud uppkommer och visuellt skiljer sig miljön givetvis åt. 
Arbetet är huvudsak förlagt till dagtid med normala byggarbetstider 07.00-16.00. Vår erfarenhet från tidigare arbeten är att våra byggentreprenörer är bra på att visa hänsyn och vi känner oss trygga i att de gör sitt yttersta för att ni ska få en så bra upplevelse även under denna period.
Har ni frågor eller funderingar är ni varmt välkomna att kontakta vår hotellreception på
e-post info@boforshotel.se eller telefon 0586-811 00
We are restoring our hotel
Our beautiful hotel was built in 1930 and has undergone several large renovations inside through the past years. Now the time has come for the exterior to be refreshed. We are going to renovate the roof and siding and the work begins in week 25 and is expected to be finished in the end of December 2018.
During this time the hotel will have working platforms around the entire hotel from ground to roof. Weather seal which will be covering the working platform will reduce the view from all of our rooms during the renovation.
We will do everything we can during this time so that this will not intrude on your stay with us. We do know that certain jobs will be loud and the view of the hotel and surroundings will be a little different. For the main work the hours are 07.00-16.00 for our contractors. Our experience from earlier work done by our contractors is that they are very respectful and we feel very sure that they will do the outmost so that you can have a good experience during your stay.
Do you have any questions or thoughts you are more than welcome to contact us at our reception e-mail info@boforshotel.se or phone +46 586-81100
Best regards